Slow Glow Lamp by Droog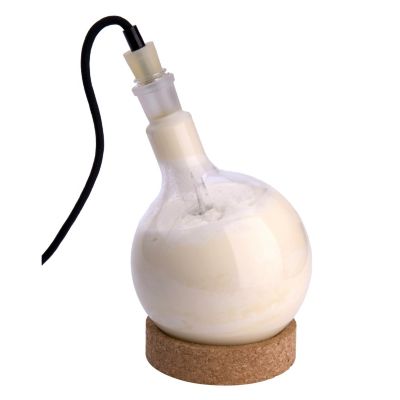 From the wacky design minds at Amsterdam-based Droog Designs comes one of the strangest lamps I have ever seen, by far! At first glance, the Slow Glow Lamp is already a little odd. It looks a bit like a scientific instrument, it is a largish sized globe-bulb with a long cord that is cradled on a thick disk of cork. but this is not that unusual in the world of contemporary designed table lamps, I have seen many lamps that are far more unique. The full impact of its strange aesthetic doesn't sink in until you switch on the halogen bulb inside this thick glass globe.
For having a halogen bulb, you sure don't get that clean white light you would expect, in fact, it is not that bright…at first. You see, the bulb is immersed in thick, waxy vegetable fat similar to the substance you would find in the bottom of an old Lava Lamp. As the bulb inside the Slow Glow Lamp heats up, it begins to melt the gooey liquid inside gradually revealing the full intensity of the lamp.
They say a good thing is worth waiting for and that is true in this case as well. When fully lit, this interesting mood light emits a mellow, yellow glow that is as bright as a halogen bulb, but somehow has the warm, inviting and comforting glow of  candlelight. Now it is not going to create a bubbling blob of ever-changing shapes like the much-loved Lava Lamp of the 60s, but, similar to those old retro lamps it does put off a bit of warmth so you really shouldn't handle it once it warms up. This truly different table lamp designed by NEXT Architects and Aura Luz Melis for Droog does put off a relaxing glow that is similar, although a bit brighter, to that classic vintage Lava Lamp you still have packed up in some box in the attic.
So whether you want to add some mellow ambiance to your evening, set the mood for an evening party or just have an interesting conversation piece in your contemporary home, the Slow Glow Lamp by Droog
 is sure to fill the bill. It's like a Lava Lamp for grown-ups!
[suffusion-widgets id='3']